This is a CLEARANCE SHORT model left over from stock sent to the USA with a height range of 194-205cm.
Please check that the distance from the inside bottom of the glass door track to the inside top of the top track is 205cm OR LESS!
They are only available in Medium and Large flap sizes in White or Silver.
The specs on these doors are the same as the Australian model except for the shorter 194-205cm range.
Please NOTE these doors are clearance items so returns are not possible if you do not measure your sliding door correctly.
The description of the Patiolock Model below is the same as the only difference is the shorter 194-205cm height range.
Get the Ultimate in Security and Convenience with our PatioLockTM system which can lock your glass door without screwing. You can also use your screen door without any cutting or handy skills if you ADD the Adjustable Screen Door Adapter at checkout.
Our PatioLockTM pet door is the ONLY pet door in the world that has its own locks! This means you can lock your glass door with:
NO screwing!

NO cutting!

NO Drilling!

NO Handy skills!

Fully adjustable so multiple use for if/when you move home!
What Patent Pending products do we have that separates us from the rest?
1. Adjustable Screen Door Adapter = Use screen door + Max Security with NO CUTTING!
2. PatioLockTM kits = Glass door locks with NO SCREWING OR DRILLING!
Watch the video below to see how the Screen Door Adapter & Locks work:
What should I buy?
Fortunately, the choice is pretty easy.
Most Popular & Convenient Choice: The PatioLockTM system which includes an adjustable screen door adapter and lock kit to suit your existing sliding door lock is the best way to go for most. It is cheaper overall; there are no additional handyman costs; it can be reused if/when you move; it has been designed to be installed by people who are NOT at all handy :); easy to install and remove (e.g., holidays, entertaining) and you won't leave screw holes everywhere. So great for renters and/or people who are not handy but want security!
For the Home Owner AND Handy-skilled / Tinkerer: If you are a home owner & handy skilled & have 3 hours spare & are not moving home & are happy to leave holes in the pet door and sliding door frame, then you could buy the Pet door with a screen door adapter and transfer locks onto the pet door system. This involves skills, tools, screwing etc.
Budget: If you just want a pet door for a laundry and/or are on a tight budget, then you could just buy the pet door on its own. There is a rod in the pet door box that can be cut and put in the floor track to crudely but effectively wedge the glass door against the pet door.
What Size flaps are there?
Click here for a link to flap sizes.
What colours can I choose from?
*Custom colours no longer available.
Can I lock the flap?
Yes, you can see the steel powder coated lock panel and lock system in the picture below.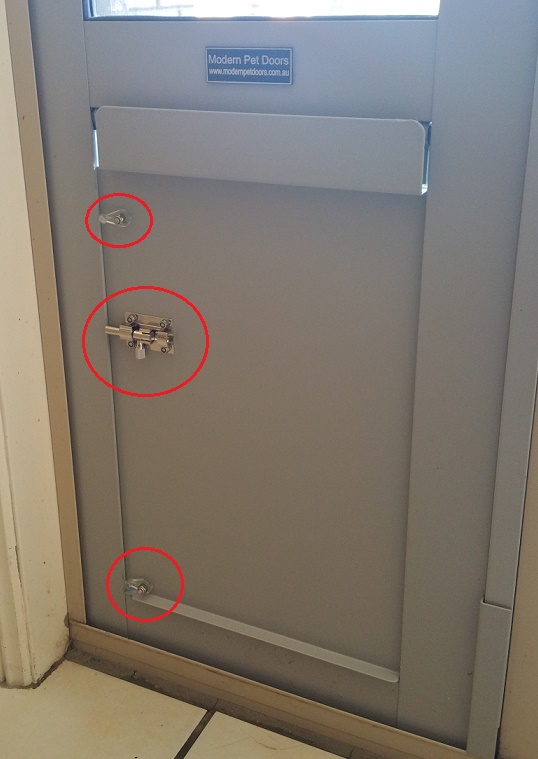 Some customer reviews:

Installed it myself!!! The hardest part was opening the box

This product is amazing! Easy to install, fits perfectly and locks securely!! Even matches perfectly with the sliding door. Worth every cent!! Ordered one day...delivered the next. The pre sale service was fantastic to ensure I purchased the right product to fit the existing door lock and my two cavaliers love ❤️ it. Thank you.

As advertised- secure adjustable no installation costs

Very happy with product. Very adjustable so it fits perfectly. Good quality and fast delivery. Great service and product

Very impressed with the quality of both the product and the customer service. Thank you. I have recommended this company to all my friends. PATIOLOCK SECURITY PET DOOR

So easy to fit, so convenient for our pets and superfast delivery- the turnaround time was less than 48 hours. Julian was extremely helpful, and we were able to fit the door so quickly (and we dont have a "handyman" bone in our bodies!!) If we can do it, anyone can. Thank you so much Julian and everyone at MODERN PET DOORS. Cheers Sue and Mark F
Why buy your dog door for your sliding door from Modern Pet Doors?
1. Our PatioLockTM system is the only patio pet door to offer SECURITY with CONVENIENCE: No other pet door for sliding doors can lock the sliding door without screwing, cutting, tools or skills for almost instant security without the hassles and installation costs/time of the conventional systems (e.g., our Base Model). Our Adjustable Security Adapter is also the only adjustable adapter (patent pending) so you can install it without tools and also re-use at the next property - great for renters!
2. Quality: We over-engineered our patio pet doors so we can easily offer an Industry Leading 10 year warranty on our doors. We stand behind our product. Note some other brands only offer 1-5 year warranty periods - we wonder about the quality with such limited warranties- do you?
2. Great Value: We offer a Supreme product at truly wholesale pricing that INCLUDES delivery to most major cities/areas (refer shipping section for details).
3. True Security+: The PatioLockTM system with a Screen Door Adapter is class leading and uses existing locks without screwing etc. So, you won't need to buy extra 'security pack' gimmicks and brackets at checkout that are not needed in light of the PatioLock model features.
4. 100% 5 Star Independent Customer Feedback: We have over 1000 'independent' 5/5 Star 100% customer satisfaction reviews on independent sites like EBay (user ID is juru73). Despite other brands claims, this is nearly twice the amount of positive feedback and volume compared to other manufacturers.
5. Two distribution outlets: We are the only manufacturer with more than one distribution outlet to reduce delivery lead times to the entire East and West coast of Australia.
6. Giving Back: Proceeds from every sale go towards supporting a variety of charities including the Guide Dogs for the Blind; Work dogs for kids with Autism and Asberger's; Salvation Army; and Animal Rescue centres. So your purchase is also helping others.
What payment options are there?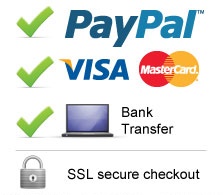 Help contribute to our four legged friends and children...
Just in case social justice and sharing is important to you, we thought we would let you know that every sale helps us to continue to sponsor:
- Guide Dogs for the Vision Impaired. We currently sponsor 'Buddy' and 'Olive' in their training program.
- Guide Dogs for children with Austism Spectrum Challenges
- Animal rescue centres
- Salvation Army
Our patio pet door will fit your sliding glass door seemlessly. Pets also find it easy to use..check out the clip below!
Check our Daisy & friends using their new pet door!
Watch the clip below to see how the PatioLockTM system works and why it saves you a lot of hassles - it goes for 9 minutes but it is very informative :)
Sorry, there are no reviews for this product yet.