What flap sizes are available and how much do they start from?
Four sizes & the bottom rail is only 5cm on ALL sizes so easy pet access!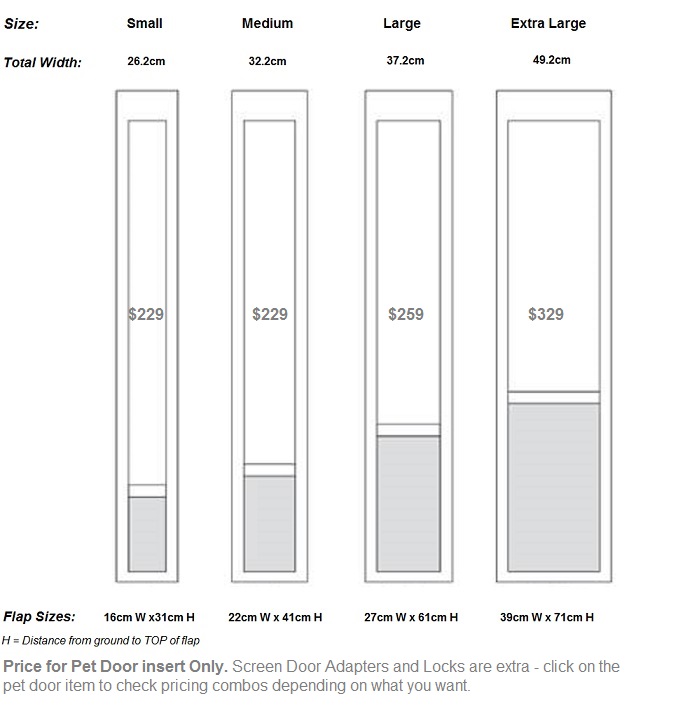 How do I select the right size flap for my pet?
Did you know most people overestimate the flap size needed? Make sure you order the correct flap size by measuring the shoulder height of your pet against your leg (it's easier!) and their shoulder width and then refer to the table below. Do not use pet weight as a guide.
Ideally, your pet's shoulder height should be at least 1-2cm shorter than the flap height and they also need to easily pass through the flap width.
Please note cats tend to use the small flap unless they are bigger than average- in which case select a medium flap.
First: Flap Width: Measure shoulder width of your pet and refer to table below for width reference.
Testing width: open your sliding door 16cm / 22cm / 27cm / 39cm to see what width works best :)
Second: Flap Height: Measure your pet from the ground to the top of their shoulders then refer below.
Flap Size

Rise

Flap width

Flap height

Some suitable breeds

Click on the link below to order your own Pet Door today

Small

5cm

16cm

31cm

Short Jack Russell, Chihuahua, Standard Cat

Medium

5cm

22cm

41cm

Poodles, terriers, beagles, large cats

Large

5cm

27cm

61cm

Labrador, Small Shepherds, Staffordshires

Extra-Large

5cm

39cm

72cm

Rottweiler, Gun dogs, Ridgeback
NOTE Flap Height is the distance from the ground to the top of the flap.
Order NOW - Your freedom awaits!
**Please note XLin Primrose are on backorder until early April 2018*