Get the Ultimate in Security and Convenience with our patent pending PatioLockTM dog door for sliding door system which can lock your glass door without screwing, drilling or cutting! You can also use your screen door without any cutting or handy skills if you also buy our patented Adjustable Screen Door Adapter.
Our PatioLockTM pet door is the ONLY pet door in the world that has its own locks! This means you can lock your glass door with:
NO screwing!

NO cutting!

NO Drilling!

NO Handy skills!

Fully adjustable so multiple use for if/when you move home!

Fast installation

No handyman costs!

Fast removal

Great for both renters and home owners

No damage to frame or paintwork removing/transferring lock mechanisms

No need for extra hard ware, brackets, rods and other contraptions/gimmicks
What Patent Pending products do we have that separates us from the rest?
1. PatioLockTM kits = Glass door locks with NO SCREWING OR DRILLING!
2. Adjustable Screen Door Adapter = Use screen door + Max Security with NO CUTTING!
Please run through the order checklist on our homepage before you order to confirm your sliding door frame and lock compatibility (i.e., common standard sliding door heights and locks).
Watch the video below to see how the Screen Door Adapter & Locks work:
What should I buy?
Fortunately, the choice is pretty easy.
Most Popular & Convenient Choice: The PatioLockTM system which includes an adjustable screen door adapter and lock kit to suit your existing sliding door lock is the best way to go for most. It is cheaper overall; there are no additional handyman costs; it can be reused if/when you move; it has been designed to be installed by people who are NOT at all handy :); easy to install and remove (e.g., holidays, entertaining) and you won't leave screw holes everywhere. So great for renters and/or people who are not handy but want security!
For the Home Owner AND Handy-skilled / Tinkerer: If you are a home owner & handy skilled & have 3 hours spare & are not moving home & are happy to leave holes in the pet door and sliding door frame, then you could buy the Pet door with a screen door adapter and transfer locks onto the pet door system. This involves skills, tools, screwing etc.
Budget: If you just want a pet door for a laundry and/or are on a tight budget, then you could just buy the pet door on its own. There is a rod in the pet door box that can be cut and put in the floor track to crudely but effectively wedge the glass door against the pet door.
What Size flaps are there?
There are 3 sizes to chose from: Medium, Large and Extra Large (small flaps have been discontinued).
Click here for a link to flap sizes.
What colours can I choose from?
Primrose
Black
White
Silver-grey
*XL is ONLY AVAILABLE in BLACK.
Can I lock the flap?
Yes, you can see the steel powder coated lock panel and lock system in the picture below.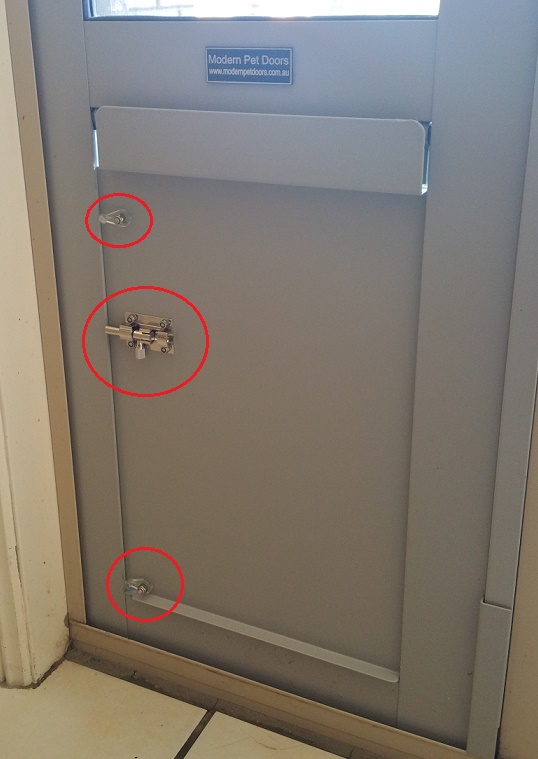 CLICK below to BUY your own PatioLockTM Pet Door:

Some customer reviews:

Installed it myself!!! The hardest part was opening the box

This product is amazing! Easy to install, fits perfectly and locks securely!! Even matches perfectly with the sliding door. Worth every cent!! Ordered one day...delivered the next. The pre sale service was fantastic to ensure I purchased the right product to fit the existing door lock and my two cavaliers love ❤️ it. Thank you.

As advertised- secure adjustable no installation costs

Very happy with product. Very adjustable so it fits perfectly. Good quality and fast delivery. Great service and product

Very impressed with the quality of both the product and the customer service. Thank you. I have recommended this company to all my friends. PATIOLOCK SECURITY PET DOOR

So easy to fit, so convenient for our pets and superfast delivery- the turnaround time was less than 48 hours. Julian was extremely helpful, and we were able to fit the door so quickly (and we dont have a "handyman" bone in our bodies!!) If we can do it, anyone can. Thank you so much Julian and everyone at MODERN PET DOORS. Cheers Sue and Mark F
What payment options are there?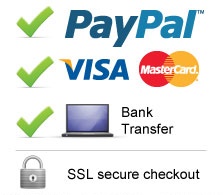 Help us contribute to our beloved pets and children:
If social justice and sharing is also valued by you, part of every sale goes towards helping support helpful services to the community including:
- Guide Dogs for the Vision Impaired. We currently sponsor 'Buddy' and 'Olive' in their training program.
- Guide Dogs for children with Austism Spectrum Challenges
- Animal rescue centres
- Salvation Army

Our dog doors for sliding doors will seamlessly fit into your sliding glass door frame for a nice modern look. Luckily pets also find our pet door inserts easy to use..have a look at the vid below...
Check our Daisy & friends using their new pet door!
Watch the clip below to see how the PatioLockTM system works and why it saves you a lot of hassles - it goes for 9 minutes but it is very informative :)
To get your own PatioLockTM Pet Door click below or on the item at the top of this page:

Works well looks good.Dog loves it.Thankyou.
The pet door is really good quality. I couldn't have gotten better quality or service from any where else. The door is pretty good to install. The finish and operation is really good. I would really recommend these pet doors
Really happy with our doggy door. With three large dogs, one being a Great Dane, we had trouble trying to find a big enough doggy door that wasn't going to cost a fortune. I was so impressed that something with this much quality only cost us $519. We love it and I would definitely recommend to anyone looking for a doggy door. Thanks Modern Pet Doors :)
As easy to install as it looks online
We just received the patio door with the screen door kit and I have to say, I am very impressed with both the build quality of the equipment and the ease of installation. A lot of work has clearly gone into the design and it certainly shows.
Easy to install, secure, keeps bugs out. Half the price of other options. Fast delivery. Thank you modern pet doors!
This door is fantastic! It was a cheaper option than going to a Glass company and having them cut a doggie door into it and it saves us having to replace the door if we ever had to move! It comes in great colours and blends right into our laundry door. Perfect for puppies also who are learning how to use the dog flap - perfect plastic flap fit so no wind bangs the door open and closed during the day or night. Will be getting another one for another part of the house ASAP! :)
Easy to install and works perfectly. We love that we can use the screen door as well. And our little Maltese Shih Tzu worked out immediately how to use it. Would definitely recommend, especially if you're in a rental property as we are
So Easy to install, Customer Support is Brilliant!
As renters, we have struggled with access for our puppies, and thinking of buying new doors to attach, and replace once we leave. But not being handy people, we kept putting it off. So glad we did. I found Modern Pet Doors & our life was changed, ordered the Patio Lock system immediately after a quick call to check what size they would recommend. We received our packages in QLD within 2 business days of shipping from SA! The instructions were perfectly clear, and we installed it easily & without drama. We did have 1 issue with our locks not aligning (due to dodgy house, not the product), but after a quick text with images to Julian, he replied promptly with a solution that worked perfectly! Our 2 dogs had some hesitation to begin with, but lots of treats on each side & they now love the freedom they have to come in & out. Our only problem now is the many 'gifts' our dogs are bringing us! If you are wondering if this is the right solution - don't. It is! I definitely 100% recommend this product for anyone with sliding doors. Great work guys!
Perfect for defence families who move every few years. Simple to install. Quality product and I'd highly recommend modern pet doors.
We are really happy with the pet door. The service was prompt, it arrived in a couple of days and was installed easily. Great to have a choice of colours - blends perfectly with our doors and windows. It's good quality, sturdy, and a great fit, and locks securely. Highly recommend!